Sweet Dreams Are Made of Cheese: Products for Charcuterie Lovers
What's more impressive than an expertly crafted charcuterie board? Fancy cured meats, artisanal cheeses, crackers, nuts, fruits… our mouths are watering just thinking about it. For all the charcuterie lovers in your life, here are some of our favorite promotional products:
Meat and Cheese Set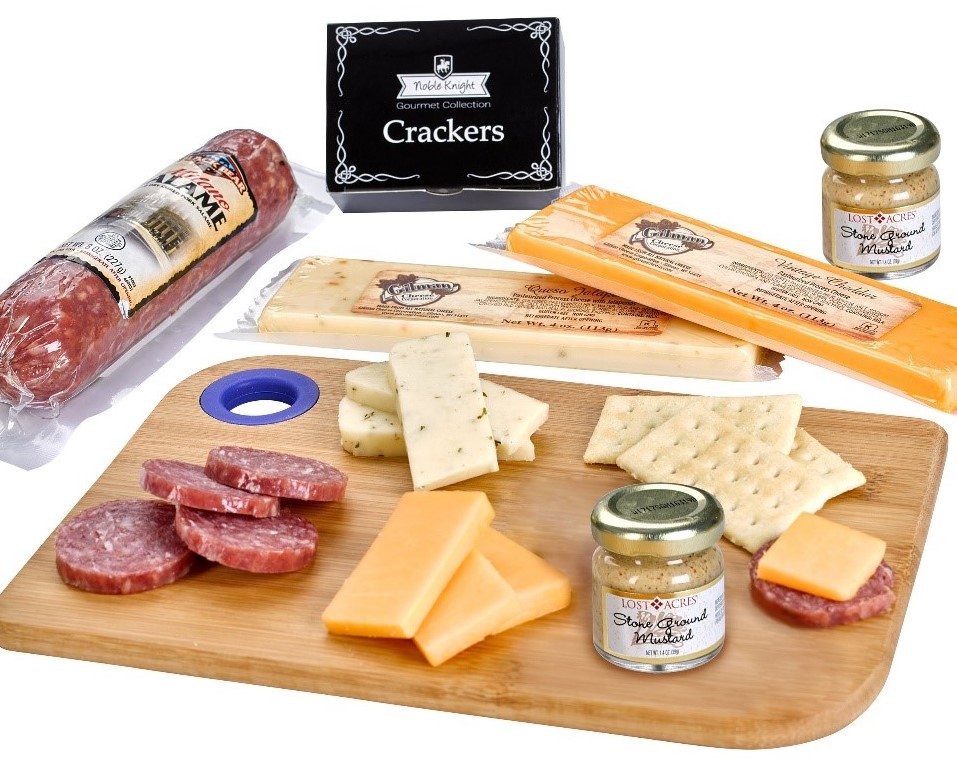 This one's a no-brainer, right? Featuring cheese, meats, crackers, and spreads, this gift set is perfect for cheese enthusiasts of all creeds. Send this gift set to your most valuable clients to let them know how much you appreciate their business, and how provolone-ly you'd be without them.
Spreader
Half the fun of enjoying a cheese plate is getting to try out all the combinations of cheese, crackers, meat, spreads, fruits, and nuts that you can think up. Help your customers on their charcuterie pairing journey with this custom branded spreader knife, perfect for cutting and spreading softer cheeses, jams, jellies, and more.
Ice Pack
There is nothing worse than cheddar that's been left unrefrigerated for too long – it gets hard, oily, and all-around gross. Prevent charcuterie faux pas with this logoed ice pack! Simply stick it in the bag with your cheeses to keep them safe from early expiration.
Nut Tin
Your clients will go NUTS for these custom branded nut tins. Salty, crunchy, and perfectly snack-sized, nuts make a great addition to any cheese plate or charcuterie board. You won't brie-lieve how much your clients will love these tins!
Grater
On the off chance you happen to have leftovers from your cheese plate, don't fret! Mix up all that extra cheese and make yourself a fancy mac and cheese. With these logoed cheese graters, your customers will know exactly who to thank for the perfectly shredded cheese in their mac.
Wine and Cheese Tote
For an un-brie-lieveably luxurious promotion, consider these cork wine and cheese totes. They're perfect for taking your charcuterie from the kitchen to the park for a picnic, a friend's for game night, and more. They're even insulated to keep your wine at the perfect temperature!
Serving Board
Take our curd for it – your clients will adore this cheese board that comes equipped with cutting and serving tools nestled inside. There's no cheddar way to display a beautiful charcuterie platter than on a custom branded wooden board.
Curious about what other cheesy products we have to offer? Contact us today!
---
Category: Promotional Product Ideas
Tags: Promotional Products, Charcuterie, Cheese, Grater, Ice Pack, Meat and Cheese Set, Nut Tun, Serving Board, Spreader, Wine and Cheese Tote